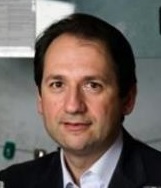 Prof. Ruggero De Maria,
Faculty of Medicine and Surgery,
Catholic University of the Sacred Heart, Rome, Italy
Nationality: Italian
I took my bachelor's degree in Medicine and Surgery at the University of Catania in 1989, and in 1994, I got a specialization in Endocrinology at the Faculty of Medicine and Surgery at the University of Palermo.
I am full professor of General Pathology at the Faculty of Medicine and Surgery at the Catholic University in Rome. I used to be the director of the Department of Haematology, Oncology and Molecular Medicine at the ISS- Istituto Superiore di Sanità (the Italian National Institute of Health) and the director of the Regina Elena National Cancer Institute in Rome.
I have been the president of the Alliance Against Cancer (Alleanza Contro il Cancro – ACC) since 2013, a network of Italian cancer centres established by the Italian Ministry of Health in Rome, in 2002.
For about 30 years I have been committed to cancer research, significantly contributing to the development of knowledge in the field of colorectal and lung cancer.
My research team has discovered stem cells in colorectal and lung cancer and it continues to study their biological mechanisms to find new cancer treatments.
I am the leader of an "AIRC 5 per mille" molecular oncology programme focused on the development of effective cancer therapies based on functional proteomics and cancer stem cells targeting and aimed at finding new cancer treatments for lung and colorectal cancer.
I am member of a series of scientific societies such as the American Association for Cancer Research and the American Society of Haematology.
I have worked in the editorial board in 10 scientific journals including: "Cell Death Differentiation", "Oncogene", "Molecular and Cellular Oncology".
I am the author of many scientific publications including:
I was the Principal Investigator in 23 research projects and inventor in 7 patents.
Prizes and awards
I was awarded numerous prizes such as:
Silver Plate for Biomedical Sciences by the President of the Italian Republic, Naples, 2014.
Gold Medal for Public Health - Presidency of the Italian Republic - Rome, 2013.
Prize "Bioeconomy Rome Molecular Biology" - CNCCS, Rome; 2011.
Prize "Guido Venosta", FIRC Fondazione Italiana per la Ricerca sul Cancro, Quirinale Palace, Rome, 2008

I have committed to the COLOMED project to give my contribution to the fight against colorectal cancer, a common disease which can be beaten through appropriate prevention, screening and treatment strategies.